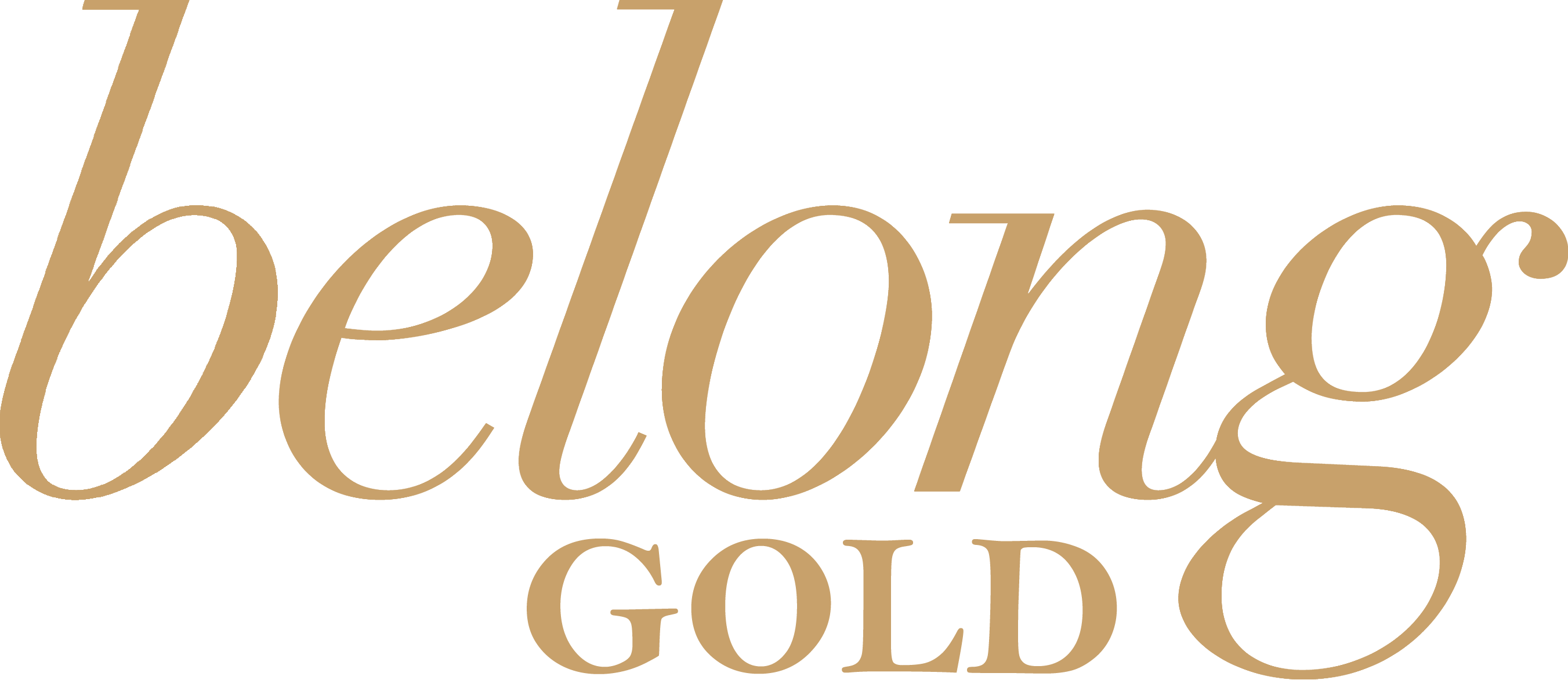 When you want to show your piercings some extra love, some luxury, with a sumptuous metal which has been so well loved, craved and coveted in jewellery for millennia …belong gold.
14ct Solid Gold Piercing Jewellery

TDi have been providing much loved body jewellery for over 25 years. To celebrate this milestone, we're delighted to launch our new belong gold collection featuring threadless labrets and hinged rings set with sparkling gems.
Engineered in solid 14 carat gold this premier range features a carefully curated selection of must have timeless pieces along with fabulous showstoppers worthy of getting new piercings!
These solid gold pieces are exempt from hallmarking. To find out why, learn about our commitment to Assay Office testing & hallmarking and to view our Dealers Notice, click here.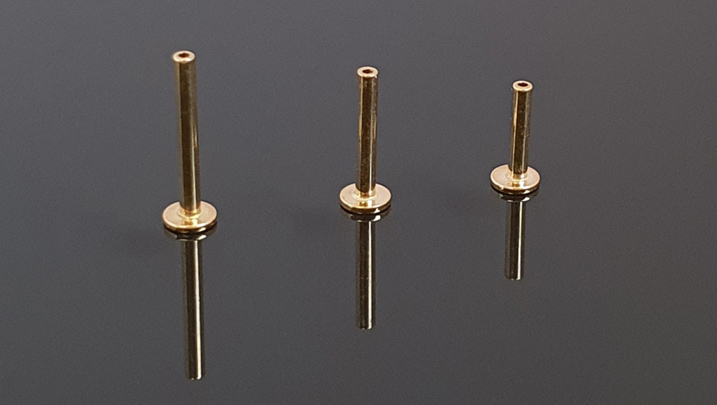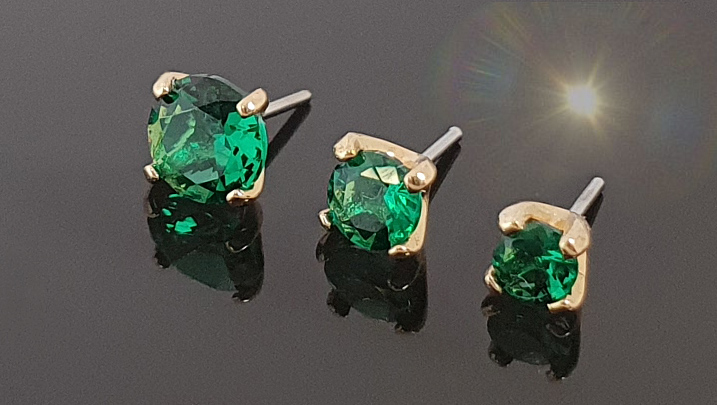 LABRET BASES
Threadless labret bases are available in solid 14ct gold in 1.2 x 6mm, 8mm & 10mm sizes.
Also Titanium in 0.8 gauge x 6mm & 8mm and 1.0 gauge x 6mm, 7mm & 8mm and 1.2 gauge x 5mm, 6mm, 7mm, 8mm, 9mm & 10mm. Labret bases sold separately.
14ct GOLD TOPS
belong gold attachments have 14ct solid gold tops with surgical steel pins for a secure and durable fit. These tops may fit with your own threadless base, but this is not guaranteed. For the best fit choose one of our 14ct Gold or Titanium labrets to compliment your belong gold top.
HINGED RINGS
We have an exquisite mix of beautiful hinged rings set with the highest graded 5A Cubic Zirconia gems and faux opals. As always, with the reassuring 'click' closure for a secure fit.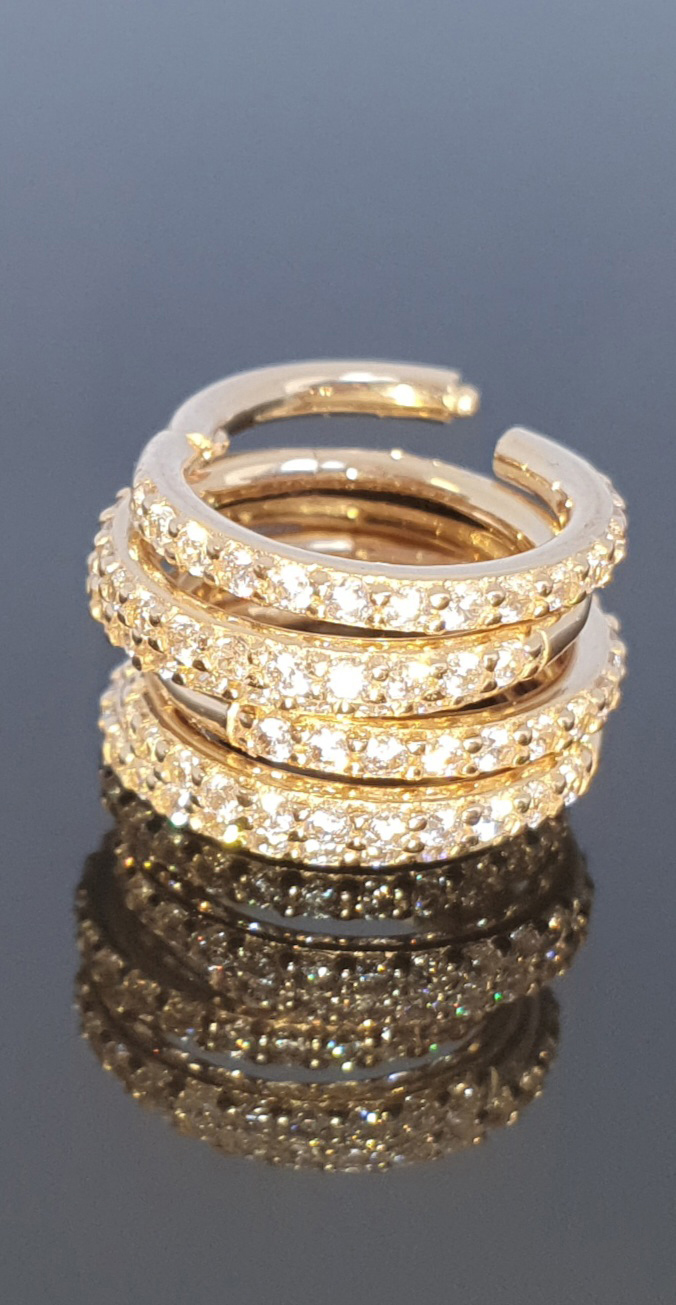 Display & Gift Boxes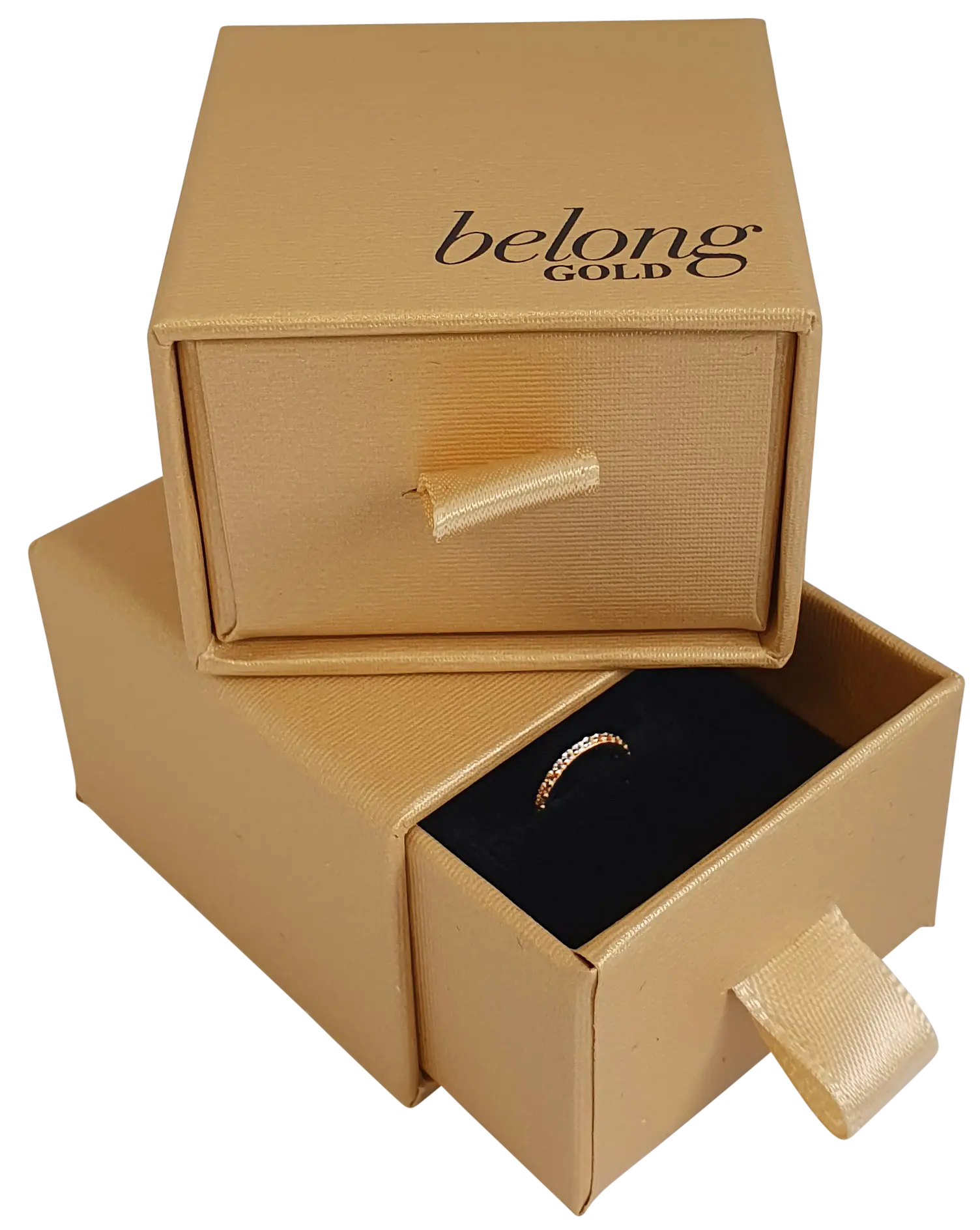 GIFT BOXES
Exclusive belong gold branded gift boxes are included free of charge with any purchase from our 14ct solid gold collection, excluding labret bases that are sold separately.
Our belong gold gift boxes are made from sustainable card & are suitable for recycling, but even better for storing your jewellery!
DISPLAY BOARD
Perfect for your POS our exclusive belong gold branded display board fits up to 43 of our 14ct solid gold threadless labret tops.
Enveloped in a luxurious, and durable, fabric finish our display boards really show the jewellery off at its very best.
belong Gold display boards are available to purchase when buying belong Gold jewellery. Jewellery is not included with the display board.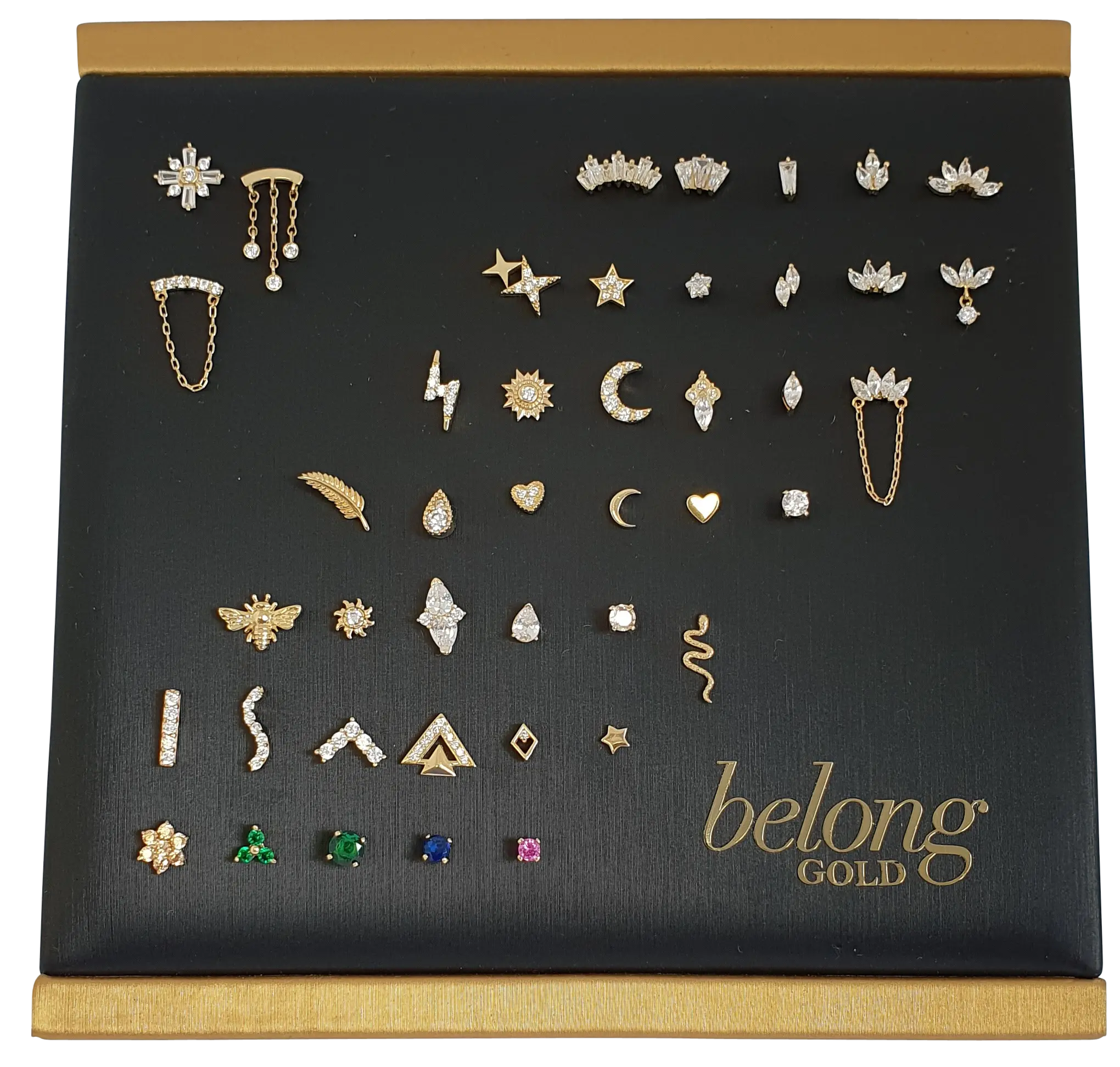 Care & Cleaning
Caring for your belong piercing jewellery is super simple. For a quick shine try our gold polishing cloth for a lustrous sheen in seconds. When it's time for the regular deep clean of your jewellery and piercing please see below how best to clean the jewellery and then sanitise it and your piercing.
POLISH
If you're looking to give your 14ct solid gold jewellery a quick shine our mini gold polishing cloth is ideal. Just a quick buff and it's sparkling!
Do sanitise your piercing and jewellery before you pop it back in with a spray of NeilMed Piercing Aftercare saline mist.
CLEANSE
Your piercing and your piercing jewellery will thank you for regular cleaning. To clean your jewellery fill a bowl with warm (not boiling hot) soapy water. Washing up liquid is good.
Dip the jewellery in the water and with a soft bristle brush (a baby toothbrush is ideal) gently clean the jewellery.
Rinse in cool water, blot dry with a lint free cloth... or kitchen roll works just as well.
SANITISE
As always, do sanitise your piercing & your jewellery before popping in.
A spray of NeilMed the leading, natural, vegan and preservative free sterile saline piercing aftercare mist makes this quick & easy.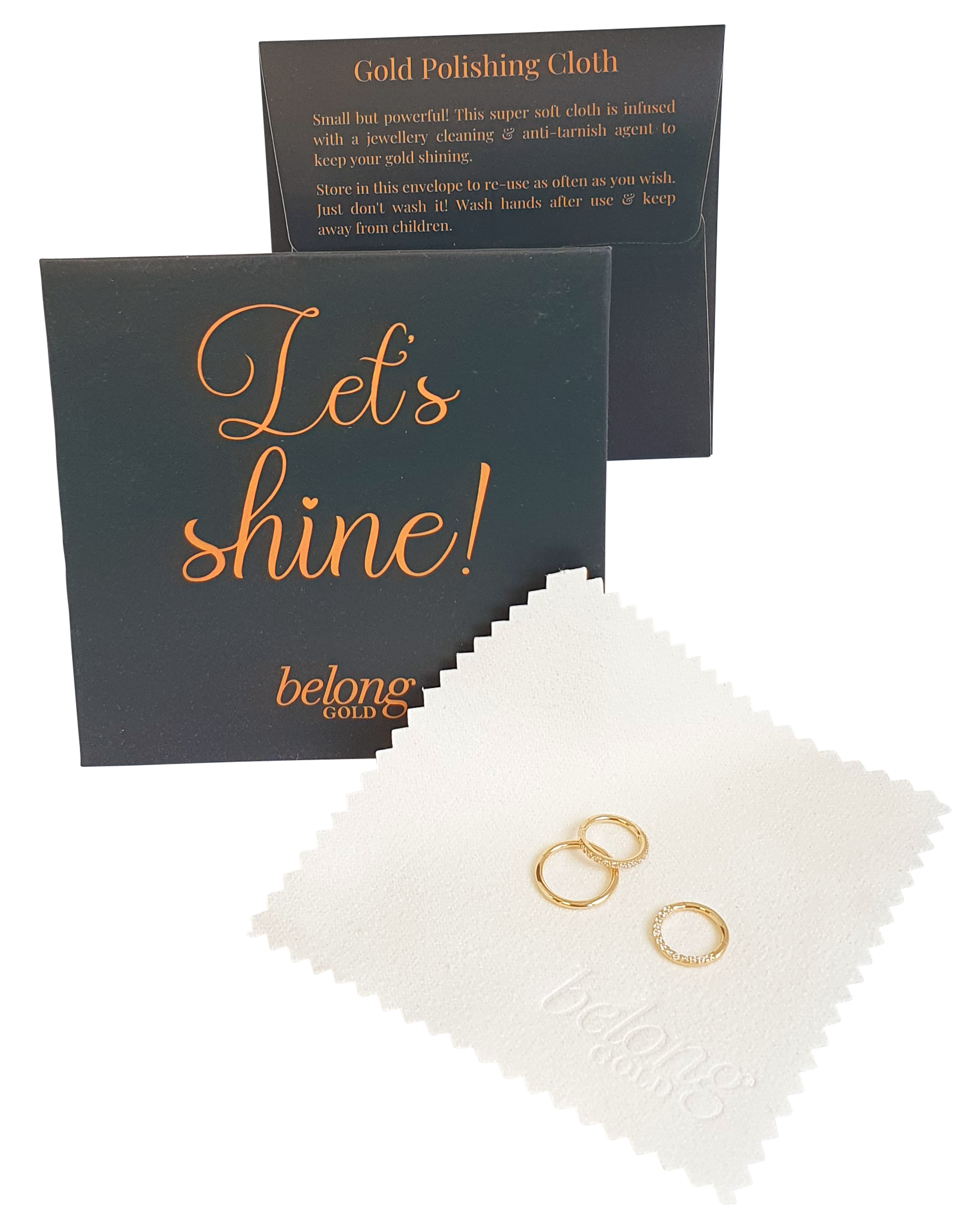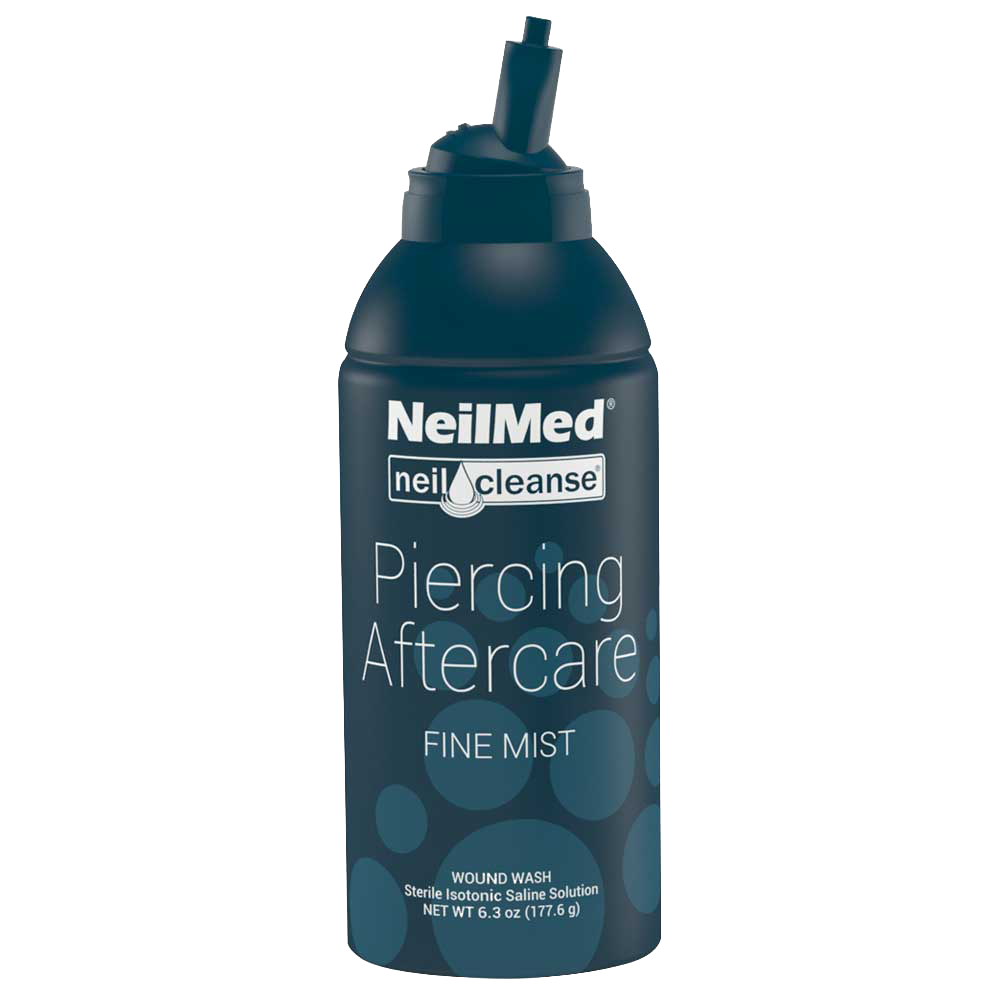 How to Use Threadless Jewellery
Here's a quick summary but for a much more in-depth guide with video and Q & A's such as... How Does Threadless Jewellery Stay Together... How Much Do I Need To Bend The Pin... Why Does My Threadless Attachment Not Stay In... and more, please view our full Guide To Threadless Jewellery here.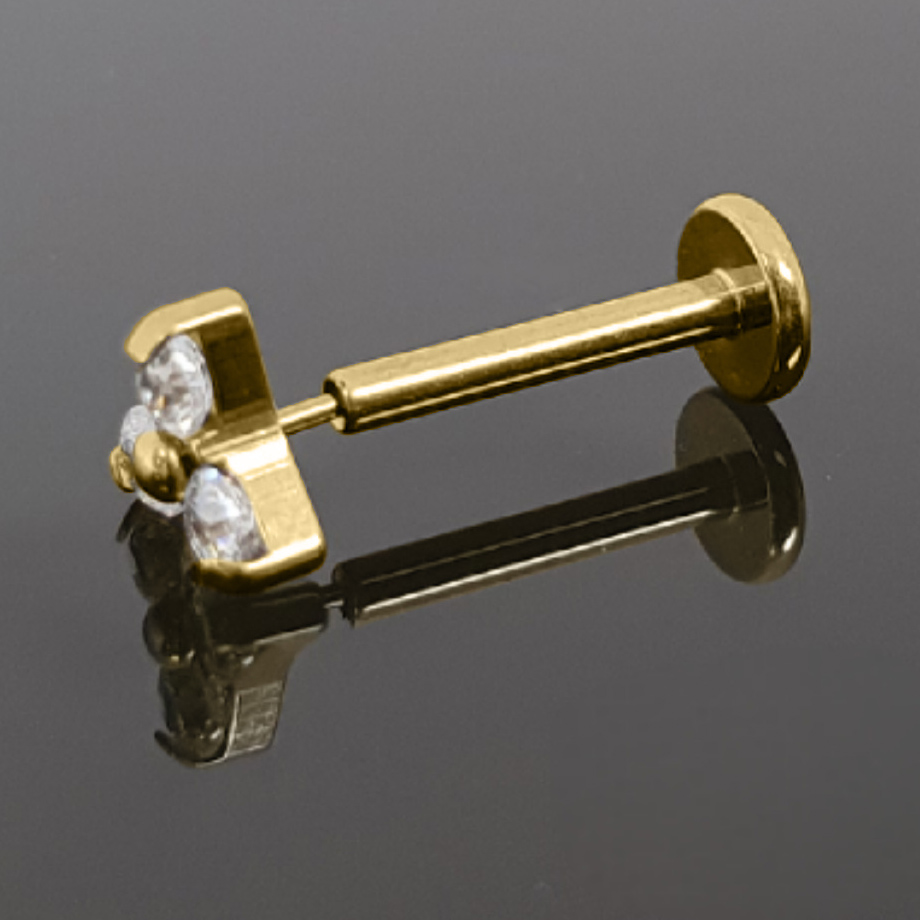 STEP 1
Insert the attachment with external pin into the hollow shaft about a third or halfway inside. This will be approximately half the length of the pin.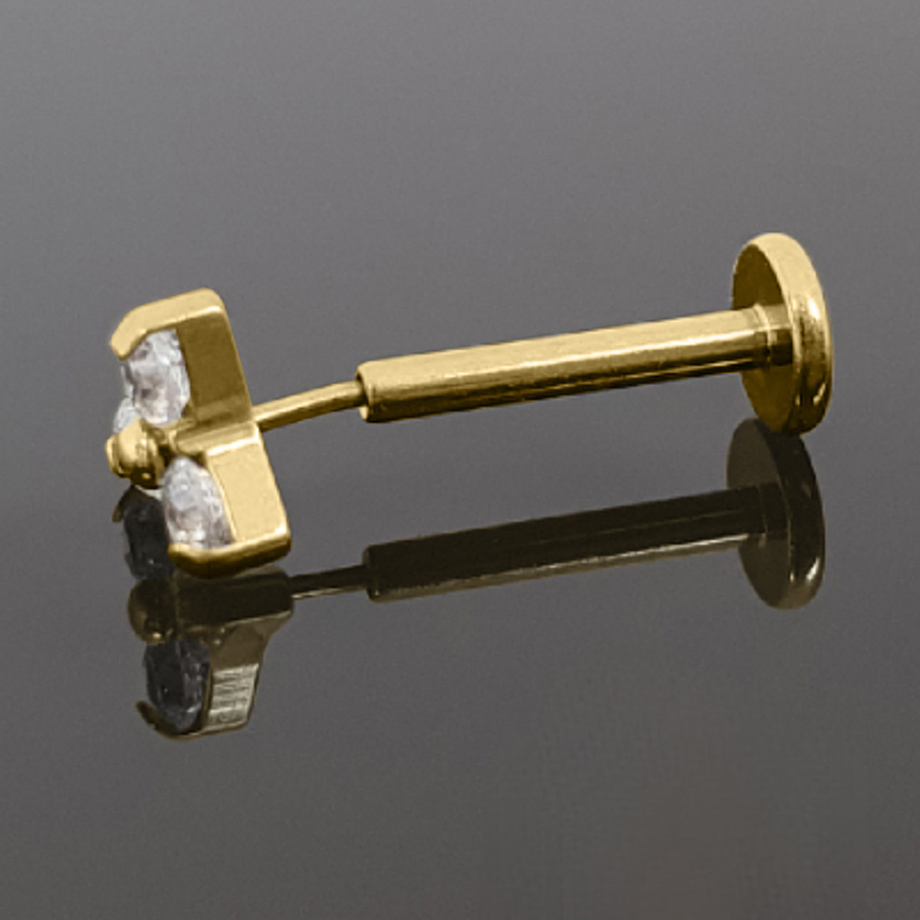 STEP 2
Then gently bend the pin inside the shaft very slightly by pushing the attachment sideways to bend the pin, as shown in the picture. For a tighter fit, bend a bit more. For an easier fit, bend less.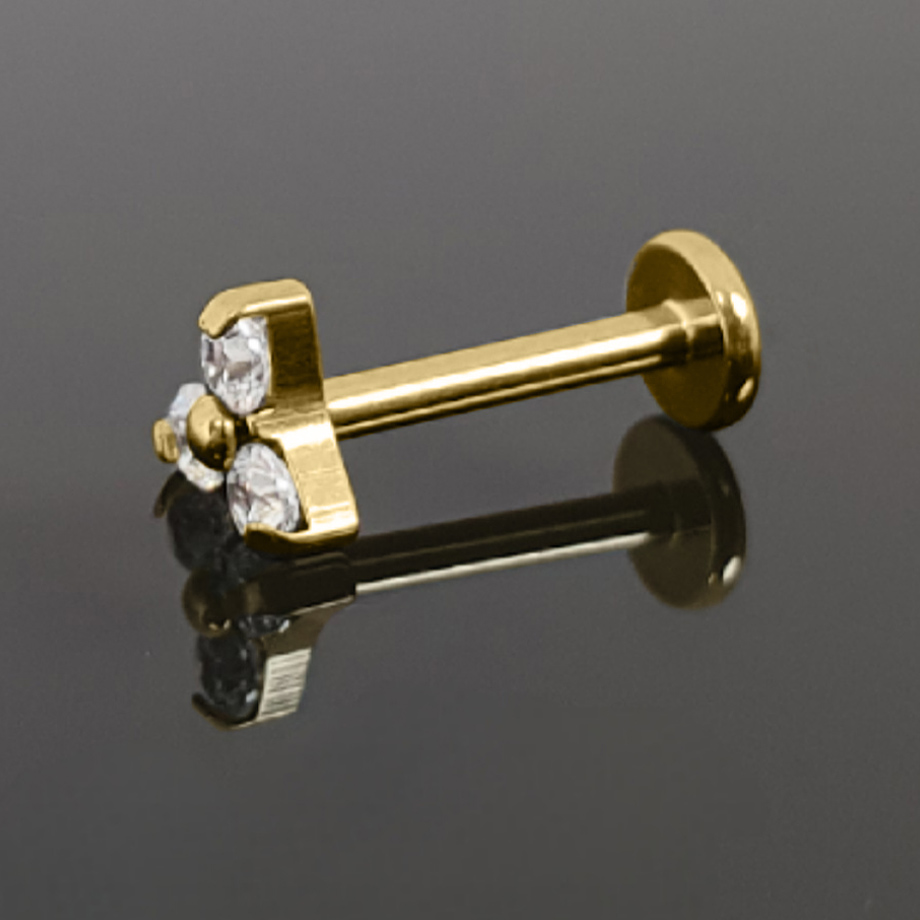 STEP 3
Now push the attachment fully inside the base. You should feel some resistance as you do this.
It will hold in place due to the bent pin. If it doesn't, bend the pin a little more.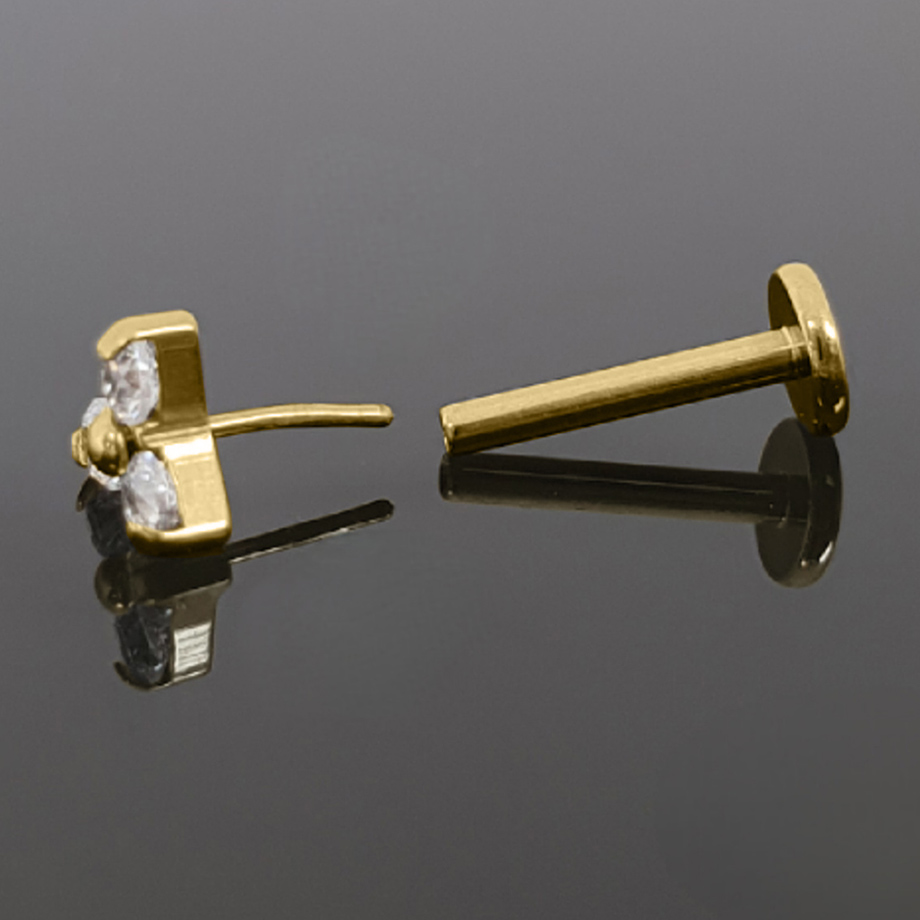 STEP 4
To remove the attachment from the threadless base just grip both parts and pull apart.
If it feels a little tight and hard to remove, turning the attachment at the same time can help.
TOP TIP
Check you are happy with the fitting of the attachment and that you feel it is secure before you pop the jewellery in your piercing as it's much easier to manipulate before you place in your piercing.